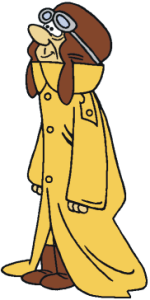 Zilly is a pilot in the Vulture squadron. He is a cringing coward, forever running away and having to be fetched by Muttley on Dick Dastardly's order of "Muttley! Fetch!" Each new plan fills him with dread, and he usually utters his catchphrase, "Oh dear! Oh my!", before retracting his head into his coat collar. Dastardly puts up with his cowardice because he is (1) a reasonably competent pilot who is needed to fly planes, and (especially) (2) the only squadron member able to interpret Klunk's gibberish (though on one occasion, he actually repeated Klunk's gibberish when he was asked, "Would you repeat that, Zilly?"). In one episode, he is temporarily turned into a reckless hero by hypnotherapy, but his new heroism turns out to be even more damaging to the squadron than his usual cowardice, leaving no choice to Dick Dastardly but to change him back to normal (causing both Dastardly and Zilly to become a duo of cowards in the process). His plane is a green monoplane with a squared gap tail.
Ad blocker interference detected!
Wikia is a free-to-use site that makes money from advertising. We have a modified experience for viewers using ad blockers

Wikia is not accessible if you've made further modifications. Remove the custom ad blocker rule(s) and the page will load as expected.