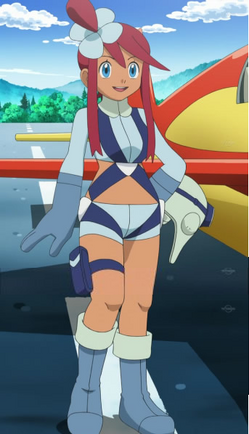 Skyla made her debut in BW069 where she just gave away badges to only trainers who she predicts she will lose to and skip the battles because she always thinks about how the battles will go. And she was also too busy with air shows than Pokémon battles. This made Ash and Cilan mad and as a result, Cilan challenged her to a Gym Leader Battle in which he lost. Ash battles her in BW070 and though she had him on the ropes with her Swanna, it was eventually beaten by Ash's newly evolved Unfezant. After which she was taught not to take Gym Battles too lightly and be a proper Gym Leader. She also informs Ash the next Gym is in Iccirus City. She visit to Ash & friends in the League.
Pokémon
On hand
Pokémon
Information

Skyla used her Swoobat to beat Cilan's Pansage but it was beaten by his Crustle. Its known moves are Air Cutter and Gust.

Swoobat

♂
Ad blocker interference detected!
Wikia is a free-to-use site that makes money from advertising. We have a modified experience for viewers using ad blockers

Wikia is not accessible if you've made further modifications. Remove the custom ad blocker rule(s) and the page will load as expected.