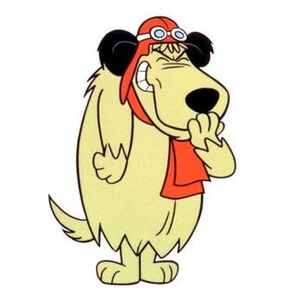 Muttley is Dick Dastardly's bungling canine sidekick. He rarely speaks, and when he does it usually takes the form of either (1) just cursing to himself indistinctly, usually following some misfortune that has befallen him, or (2) an excited "yeah-yeah-yeah..." at the offer of something appealing or in response to a command/request from Dastardly. There are times when distinct single words can be discerned amid his mutterings (e.g., "Sassafrassarassa Chicken Zilly"). He does, however, have a distinctive wheezing laugh which he employs whenever something bad happens to Dastardly, or whenever Dastardly is describing his latest "foolproof" plot. Since leaving the Wacky Races, Muttley has learned to fly by spinning his tail like a helicopter rotor. This enables him to save Dastardly from falling (which frequently happens, usually accompanied by a cry from Dastardly of: "MUTTLEY!! DO SOMETHING!!"), although Muttley usually demands a medal for doing so. He also alludes to a medal collection on his shelf. During Wacky Races, Muttley's popularity had grown, so when Dastardly and Muttley began production, he got his own segment (Magnificent Muttley) in which he daydreams that he is a different hero each week, usually with Dastardly as the villain. Each episode ended with Muttley's snickering before or during the ending of the music that led to the conclusion of the episode. His plane is a small purple biplane with the propeller placed behind him.
Ad blocker interference detected!
Wikia is a free-to-use site that makes money from advertising. We have a modified experience for viewers using ad blockers

Wikia is not accessible if you've made further modifications. Remove the custom ad blocker rule(s) and the page will load as expected.