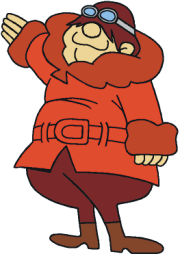 Klunk is the Vulture Squadron's stout and steady chief designer and pilot. Each episode sees him developing aircraft or weapons (often missiles which home on some bizarre trait, such as a person sneezing) with odd features and attachments designed to catch Yankee Doodle Pigeon. His attempts to explain his inventions are complicated by the fact that he apparently suffers from Tourette syndrome. His speech is punctuated by howls, clicks, whistles, and growls, accompanied by bizarre facial contortions. Only Zilly can understand him. His eyes are never seen because of his bangs and goggles pulled over them. Klunk often assumes command in Dick Dastardly's absence, e.g. when he went on holiday (only to have his fun ruined by the squadron's further attempts to capture the pigeon), or when he suffered from memory loss. Klunk is probably the most consistent character; he is steadfastly committed, beyond all other aspects of his life, to stopping the pigeon. His plane is a blue biplane and like Muttley, the propeller is built behind him.
Ad blocker interference detected!
Wikia is a free-to-use site that makes money from advertising. We have a modified experience for viewers using ad blockers

Wikia is not accessible if you've made further modifications. Remove the custom ad blocker rule(s) and the page will load as expected.