Ezekiel
(Ruzariko)
General
Name:
Ezekiel
Japanese Name:
Ruzariko
Hometown:
Canada
Region:
Canada
Family:

Mother, Father (names unknown)

Class:
animal-like, bare foot
Friends:

Dawn (one-sided on his side),

First Appearance:

Total Drama Pokemon Chronicles (Season 1), Total Drama Pokemon: Unova League

Ezekiel, labeled The Homeschooled Guy, was a camper on Total Drama Island and was a member of the Killer Bass. He did not qualify for Total Drama Action, but was a competitor on Total Drama World Tour as a member of Team Victory. After his elimination, he became a stowaway aboard the Total Drama Jumbo Jet, making various cameo appearances around the inside of the plane throughout the rest of the season. He was seen with the original contestants on a yacht in the first episode of Total Drama: Revenge of the Island, and later had three individual cameo appearances in A Mine Is a Terrible Thing to Waste, The Enchanted Franken-Forest, and Brain vs. Brawn: The Ultimate Showdown. Ezekiel is immediately to Anne Maria and to Dawn in the Show from Crossovers and Total Drama Pokemon.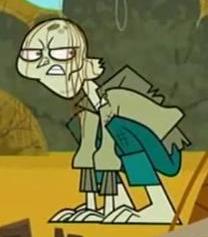 Ad blocker interference detected!
Wikia is a free-to-use site that makes money from advertising. We have a modified experience for viewers using ad blockers

Wikia is not accessible if you've made further modifications. Remove the custom ad blocker rule(s) and the page will load as expected.