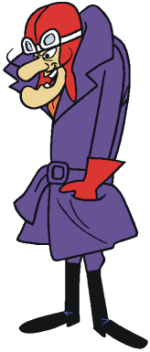 Dick Dastardly is the leader of the Vulture Squadron, an ex-Wacky Racer turned aviator. He is still the accident-prone villain he had been in the Wacky Races and still owns the Mean Machine. He is referred to as "DD" or "Chief" by Zilly and Klunk, and as "Rick Rasterly" by Muttley (especially when he is muttering). Although he's sometimes mean to Muttley, Zilly and Klunk, he is a nice guy (he says that to himself often, to calm his nerves). When he gets angry, he usually uses his catchphrase "drat, drat and double drat", just before crashing hard into the ground. Although he does not show it very often, Dastardly actually likes Muttley and sometimes treats Muttley with a lot more respect than the rest of the squadron (Zilly and Klunk). His plane is a red biplane with sharped wings and tail.
Ad blocker interference detected!
Wikia is a free-to-use site that makes money from advertising. We have a modified experience for viewers using ad blockers

Wikia is not accessible if you've made further modifications. Remove the custom ad blocker rule(s) and the page will load as expected.