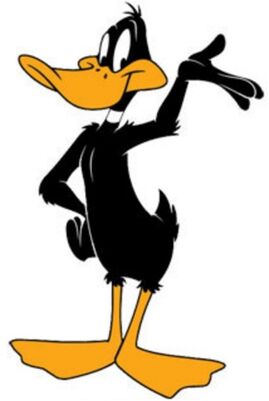 Daffy Dumas (also known by Sheldon or Armando) Duck is an animated cartoon character produced by Warner Bros. Animation. He has appeared in cartoon series such as Looney Tunes and Merrie Melodies, where he usually has been depicted as a rival and occasional best friend of Bugs Bunny. Daffy was one of the first of the new "screwball" characters that emerged in the late 1930's to replace traditional "everyman" characters who were more popular earlier in the decade, such as Mickey Mouse and Popeye. Daffy starred in a whopping 133 shorts in The Golden Age, making him the third-most frequent character in the Looney Tunes/Merrie Melodies cartoons, behind Bugs Bunny's 166 appearances and Porky Pig's 159 appearances. Daffy was ranked #14 on TV Guide's list of top 50 best cartoon characters of all time and was featured on one of the issue's four covers as Duck Dodgers with Porky Pig and the Powerpuff Girls (all of which are Time Warner-owned characters). Daffy meet to The show of Pokemon.
Ad blocker interference detected!
Wikia is a free-to-use site that makes money from advertising. We have a modified experience for viewers using ad blockers

Wikia is not accessible if you've made further modifications. Remove the custom ad blocker rule(s) and the page will load as expected.