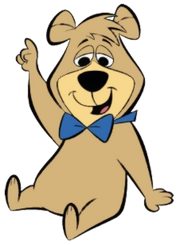 Boo-Boo Bear is a Hanna-Barbera cartoon character on The Yogi Bear Show. Boo-Boo is an anthropomorphic bear cub in a bow tie, of uncertain relationship to Yogi Bear, who often acts as Yogi Bear's conscience. He tries (usually unsuccessfully) to keep Yogi from doing things he should not do, and also to keep Yogi from getting into trouble with Ranger Smith. Often he would say "But Yogi, Mr. Ranger isn't gonna like this," or some variation (It was revealed in one of the cartoons that Booboo has said this over 7756 times, but has probably said more or less. It is not readily apparent whether Boo-Boo is a juvenile bear with a precocious intellect or simply an adult bear who is short of stature. However, in the episode "Cub Scout Boo-Boo", Yogi tries to persuade Boo-Boo to become a Boy Scout. Boo-Boo declines the offer, but Yogi corrects him by saying that he will be joining the "Cub Scouts", which Boo-Boo accepts.
Ad blocker interference detected!
Wikia is a free-to-use site that makes money from advertising. We have a modified experience for viewers using ad blockers

Wikia is not accessible if you've made further modifications. Remove the custom ad blocker rule(s) and the page will load as expected.